Starstorm by felisselita
A downloadable game for Windows, macOS, and Linux
A BL/Boy's Love Visual Novel with Minigames!
**Important: please read the 'NOTICE' near the end of the page before purchasing the game.
>>STORY
The mysterious man who was unconscious in front of Sachiel Devereux's doorstep... Who is he?

Under the starry sky, a cafe owner's and a soldier's life that seemed to have nothing to do with one another have collided.
Take the journey with Sachiel! From taking care of his cafe, doing a decoration project for a friend's wedding, a conflict between brothers, and... Love?
(** The romance part is of main character Sachiel Devereux and Luca H. Heidegger. Other characters are not romance-able.)
>>CHARACTERS
Sachiel Devereux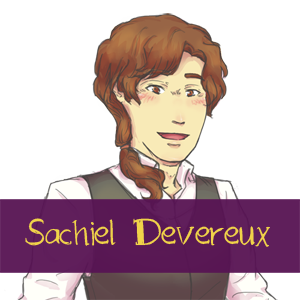 An owner of a cafe. Loves cute things and artsy decorations. Bright and joyful, his own past is a constant reminder to see his future in better light!
Luca H. Heidegger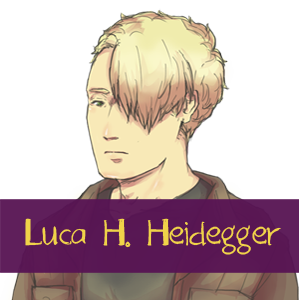 A soldier. Intimidating at first, but his actual personality shines through. With time and effort, he will forgive himself, so it's just a matter of accompanying him along the way.
Kyler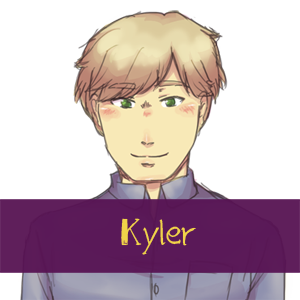 An electronic company worker who frequents Sachiel's cafe. Kind, almost too kind, sometimes! But, apparently he can have problems too...?
Marcelyn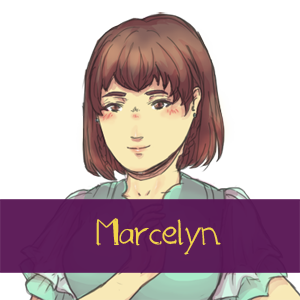 Another electronic company worker who frequents Sachiel's cafe. Fun-loving and always a good friend.
Regina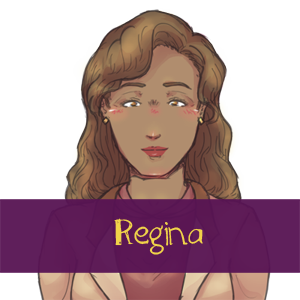 A customer of Sachiel's cafe, who will ask Sachiel's help with a project. With Valery, she will...?
Valery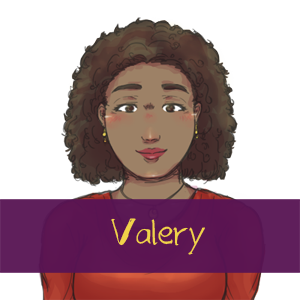 Another customer of Sachiel's cafe, who will ask Sachiel's help with a project. With Regina, she will...?
>>FEATURES
In the game, you can help Sachiel and Luca build wooden structure for a friend's wedding...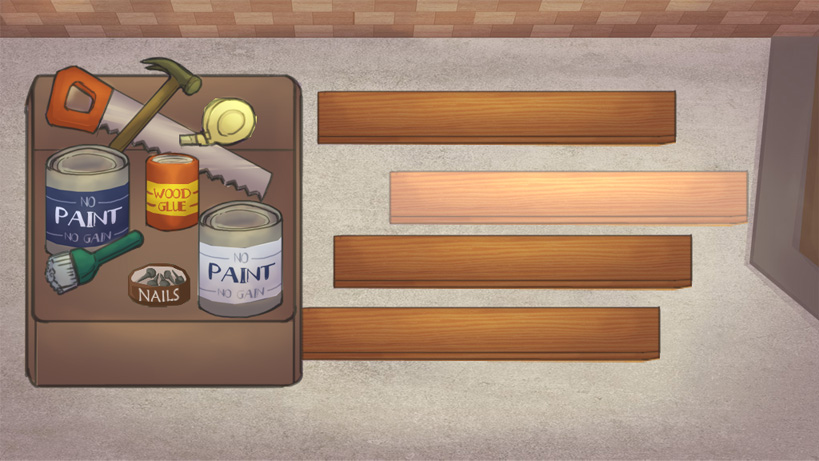 ...take care of Sachiel's garden...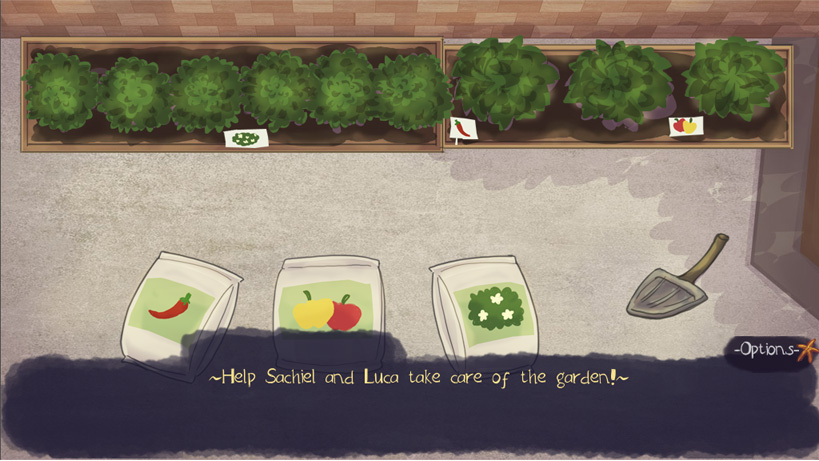 ...help Luca through an emotional moment (a press-keyboard system game with a timer!)...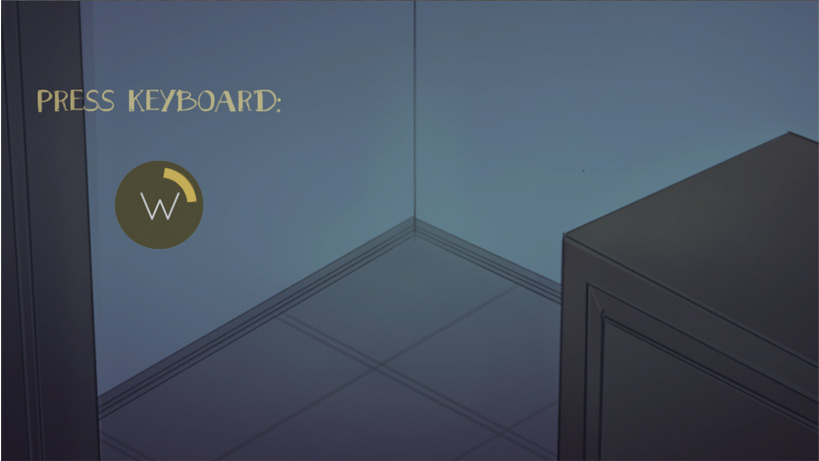 ...and help decorate the wooden structure!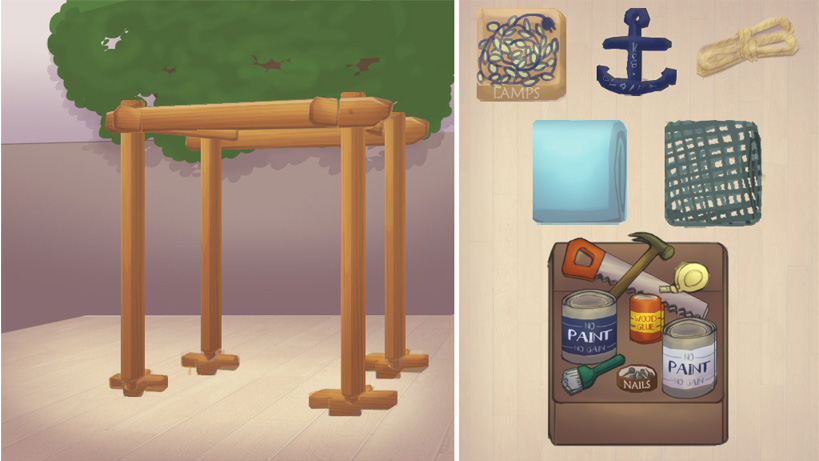 (Some of the aforementioned mini games appears more than once)
3 ENDINGS: NEUTRAL, BAD, GOOD!
Close up sprites of two main characters!
Love illustrations for the Good Ending!
>>NOTICE
This game contains:
'Post-traumatic stress behaviors'. (I don't say outright 'PTSD' because it might not match the newest diagnosis criteria.)
Anxiety attacks. Some of the mini games are helping Luca through an attack--visualized by a moving background.
Some flashing screens (flashing white once, fading to black screen) and shaking screen (horizontal shaking, not more than 0.5 second--the Ren'py default 'hpunch' effect, if you know Ren'py)
Screams (more low-pitched than not) and gunshot sound effect.
Visual representation of red sky and some war planes dropping bombs. (There are NO visual of gore/blood/injury/war scene.) Only this one picture below: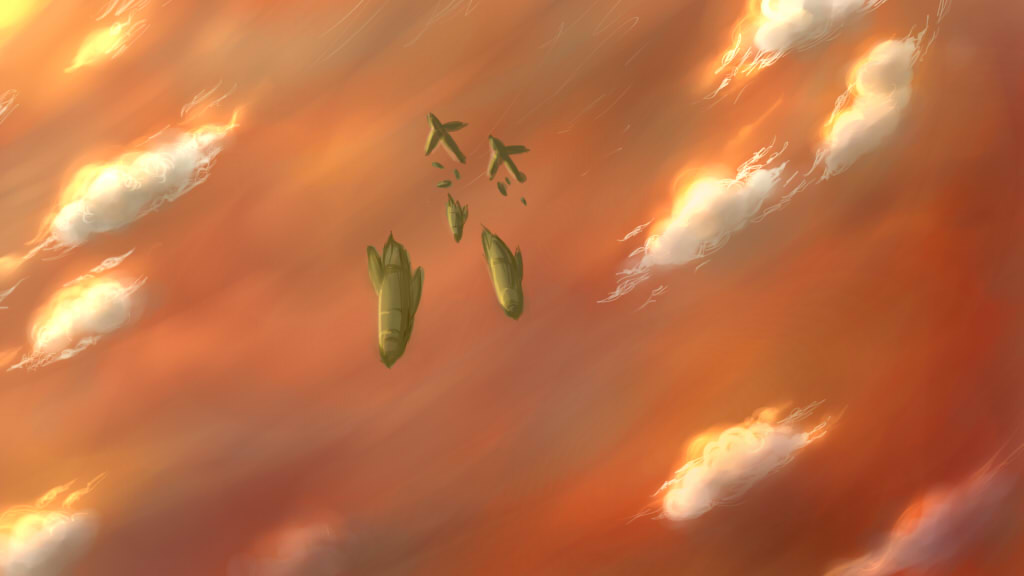 Disclaimer:
I do not have PTSD. However, I learned about it in college. The representation of 'post-traumatic stress behaviors' here might not reflect all patients with similar conditions.
I do have depression & anxiety. The anxiety attack mini game was modeled after my own. It still might not reflect all patients with similar conditions.
Please proceed at your own risk. Feel free to email me if you have any questions.
>>Final notes<<
This project was started on 2014, far before I understood depression/anxiety/PTSD etc. At that time, I was under depression/anxiety, myself, without realizing. Like I said, the idea to turn anxiety attack into mini game was after my own. Maybe it was how younger me tried to ask for help. Then college problems arise and I left it until January 2018.
The time I started, I was so pumped. As time goes by, even if I'm making progress, doubts start to appear--why do I bother? What am I aiming for...? It's a classic thought with artist, especially art as a side/hobby (not as a job), especially in visual art, and even more so in people who have depression/anxiety like me.
If this game can somehow entertain even just one audience, I think I'll be a little happier. Or even if not, at the very least, I finished it, I put it out.
I just want to say, to whomever reading this far, if you are struggling, you've done well. Don't hurt others but more so don't hurt yourself. If you keep on trying you will end up somewhere better than if you don't, so keep trying!
Purchase
In order to download this game you must purchase it at or above the minimum price of $5 USD. You will get access to the following files:
Starstorm-1.0-all.zip
63 MB
Starstorm-1.0-win.zip
47 MB